Welcome to Developer Diary, a weekly chat to share what a week as a developer is like, for me at least 😊
What's been happening?
Snow!!! We have had a week of cold weather and snow here in Glasgow! Meaning lots of tea and blankets as even after 32 years of being Glaswegian, I am pretty useless at handling cold weather! It's been pretty to look at the snow lying outside though and you can't quite beat the fun of walking through fresh snow no one has walked in!
I attended and spoke at Umbraco London meetup. It was a .Net core special where we heard great talks from Bjarke and Emma on the "UniCore" team who are doing awesome work to covert Umbraco to .Net core (well, .Net 5). I then gave a talk on "What's new in .Net 5 and C#9". I found I was really nervous for some reason, maybe it was the live coding & switching between slides and code aspect, but it went ok I think.
The plan to run twice a week was impacted by the snow, but I did switch this to indoor workouts and I did a live on live yoga class (rather than YouTube videos).
Another Glasgow park ticked off the list for mum, Darcy(dog) and I was Bellahouston. Lots of mud for Darcy, much recommended.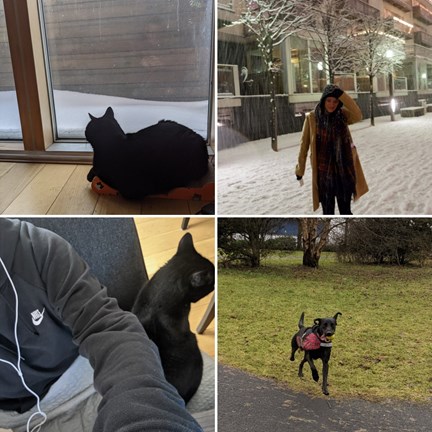 Reading 📚
Still trying to read a few pages a day. Slow progress but enjoying it.
I really enjoyed the format and content in this post by Tae'lur Alexis, "Command Line Basics: A Short & Sweet Introduction".
"Opening infinite editors from the action menu" by Kevin Jump. I have been looking into how to do do this for a wee personal project idea I have so this was perfect timing!
Listening 🎧
A busy podcast week for me, this is usually what I do when my brain is busy and I need a break from screens and calls!
Developer Tea episode with Basecamp design lead, actually it's 2 part episode. I also really enjoyed this short episode on "self distancing" to avoid negativity in self talk. 
How I Built This episode on Atlassian. Super interesting to hear about a huge tech company not in Silicon Valley and how they evolved the business to be the company alot of us use everyday.
Adam Buxton with Elizabeth Day 2 of my favourite podcasts hosts having a chat.
I recently started listening to Conspiracy Theories, a Spotify series. It discusses historical events/ people that have conspiracy theories surrounding them over a 2 part episode, first telling the facts in episode 1 then on to the common conspiracies in episode 2. I have enjoyed the first episodes more than the second as it's been a way to learn about historical events like Watergate.
Catching up with current news and pop culture with Nerdette.
The Overthinkers episode "Why Do Emotions Matter So Much In Advertising?", more advertising then tech but really interesting.
So many more, so I have made a wee Spotify playlist:
Learning 👩‍💻
The Umbraco .Net core alpha was released this week so I have been playing with getting that running and having a look around at the code.
Watching 📺
The Vanishing at the Cecil Hotel on Netflix.
A podcast I listen to, Open Goal,  has a YouTube version where you can watch them have the conversation, I have switched this week to watching rather than listening. Would recommend if you are a Scottish football fan.
Goals for next week:
If the weather gets less snowy/ icy, run twice.
Go outside more.
Related Posts