DotNetConf was a 3 day worldwide conference over 3 days (November 10th-12th) where we could learn about all things .Net from the teams at Microsoft and community experts.
All conferences are virtual in 2020, but DotNetConf has been doing this a while, 10 year anniversary this year. It shows in the production, everything is super professional in the streaming and presenting. Well done to everyone involved!
Well, let's start at the beginning... the keynote! Lots of well known folks in the dotnet community giving us an update on things, and of course the release of .Net 5!! Check out the video here.
For me, if there was a key theme for DotNetConf, it would be Blazor. Perhaps this is as I have an interest in this technology so I looked at the agenda with this in mind, but here are some of the Blazor talks I really enjoyed:
This year I was lucky enough to find myself on the speakers list for DotNetConf! Still can't quite believe it to be honest! My session is here: "Getting started with Blazor". Thank you to everyone who send messages of good luck before the talk and well done after. Y'all are great! 💜
But of course, it wasn't *all* about Blazor, I really enjoyed these sessions:
The talks were through all timezones, so some talks I still need to catch up on, you can find the videos here: https://www.youtube.com/c/dotNET/videos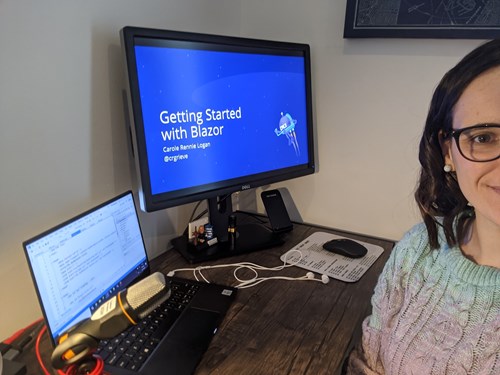 Again, super well done to the DotNetConf team, all speakers and the awesome community who watched and contributed on the live stream chats and social media.
See y'all next year!
You can see more "Developer Diary" blog posts, discussing experiences as a developer and at community events on my blog.
As always, say hello on twitter 👩‍💻