Welcome to Developer Diary, a weekly chat to share what a week as a developer is like, for me at least 😊
What's been happening?
The snow melted and I was able to run! Managed my 2 run target and another online yoga class! Win! Hopefully my fitness is improving week on week.
I spent my Sunday away from my computer and built a Lego Porg, follow the adventure here. 
On Tuesday, I was hosting Glasgow Umbraco (GLUUG) meetup. We had a great talk from Tim and had a community chat about what we see for Umbraco in 2021.
On Wednesday, I was speaking at .Net Edinburgh meetup about "What's new in .Net 5 and C# 9". It was good fun to attend the new meetup, hopefully I'll get to visit them in Edinburgh one day when it's an "in person" meetup.
It was a 4 day working week for me, so I spent my Friday out walking in the rain with my mum and Darcy the dog. Nice way to relax after a busy week!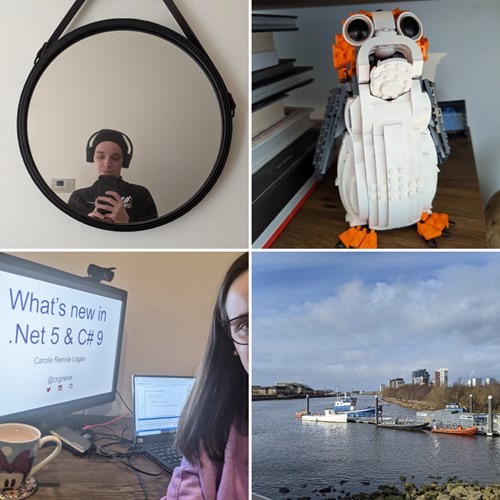 Reading 📚
.Net 6 preview 1 release notes and the ASP .Net 6 version too.
I was tagged in a thread about what books people are reading at the moment, so that's added many books to the already too busy book backlog for me!
Listening 🎧
A mix of code, tech and pop culture podcasts this week!
Learning 👩‍💻
As mentioned on twitter, I have been working on my presentations skills this week. Presenting while navigating slides, code and command line all while talking, is a skill that takes alot of effort and energy! It's something I have been trying to improve on in recent talks... practice makes perfect right?!
Watching 📺
Framing Britney Spears
Umbracoffee with Callum and Poornima.
WandaVision Ep 6 & 7
Goals for next week:
Run twice.
Investigate Umbraco .Net 5 Alpha.