Welcome to Developer Diary, a weekly chat to share what a week as a developer is like, for me at least 😊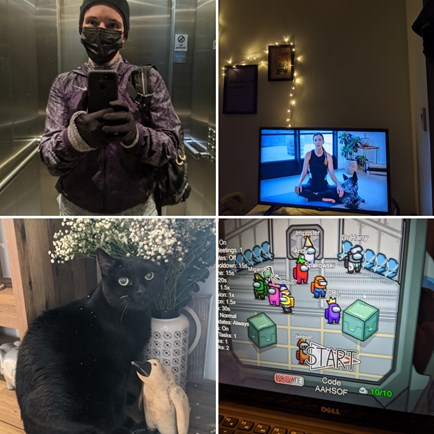 What's been happening?
On Sunday it was the end of 30 days of yoga journey by Yoga with Adriene. I am really proud I done all 30 days and have continued since then, even if just a wee 7 minute video before bed.
I mentioned last week I wanted to get in to habit of running again. I managed my 2 run target this week, despite the worst weather! One of my runs was to a park where I saw family I hadn't spend time with in nearly a year. Catching up with them, spending time outdoors and exercising really helped my mood after a dark, moody January.
On Wednesday I was hosting the Scottish devs meetup, the first of the virtual meetups we've done. We had 2 great talks, check them out here. 
Friday was Umbraco community game night playing Among Us. It was good to catch up with some folks in a non techy chat and find out who is a good liar 😂
Reading 📚
As mentioned in last week's post, I am trying to read a little every day, even if just 1 page! I have been enjoying The Guest List so far. 
Listening 🎧
The Rewatchables -  The Terminator & Terminator 2
Learning 👩‍💻
As mentioned, it was our first Scottish Developers meetup and was my first time on the hosts side of Stream Yard and hosting YouTube live video so that was my main learning of the week. It wasn't perfect but alot learned and will be better each time with practice. 
Watching 📺
WandaVision on Disney+ has started to get really good in the more recent episodes, linking more with the MCU.
Tiger, a 2 part documentary series from HBO.
There has been alot of football on TV and with Transfer Deadline Day, we done the now traditional watching of Sky Sports News til midnight on deadline day to see the latest deals.
Goals for next week:
2x runs again, bonus points if one is before work.
Continue to read everyday.