This year Microsoft Ignite was a hybrid event with streams of talks online and local events with in person sessions. I joined the MS Ignite "Spotlight on the UK" event in Manchester.
MS Ignite announcements
Before we get on the UK specific content, lets have a look at the news from Ignite. As always, there is a handy "book of news" published: https://news.microsoft.com/ignite-2022-book-of-news/ and some highlights for me listed below:
Spotlight on the UK
This was the first in person conference I have attended since March 2020! I was lucky enough to host sessions at MSIgnite virtually during the pandemic but was yet to speak in person at a Microsoft event. So, I got up *very* early and got the train from Glasgow to Manchester. The UK event was in Victoria Warehouse, Manchester which is right next door to Old Trafford. On Thursday 13th, I went along to a few of the community sessions including table topics and expert panels. I became a Microsoft MVP in December 2020 so almost all of my interaction with MVP community has been online, it was great to meet so many folks in person!
An in person conference was the perfect excuse for the return of some conference themed nails, which I used to do alot before everything went remote for a few years.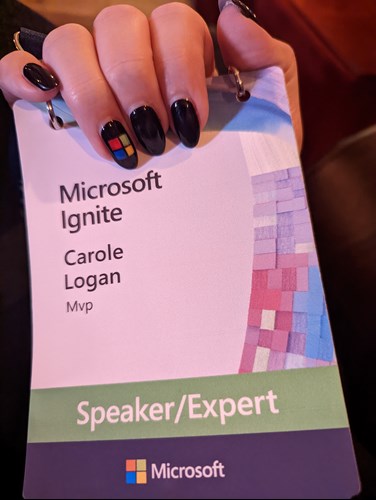 On Friday 14th, I made my way to the venue nice and early to see the keynote which included an appearance from Andy Burnham, the Mayor of Manchester. It was great to hear the vision for an inclusive digital sector in Manchester and his emphasis that all communities need to see the effect of the growing digital industry in the city.
Next up, I went along to the "connection zones" to host a Table Topics session "Accelerating Innovation & empowering teams: From code to cloud in minutes" with fellow Glaswegian Sarah Lean. It was a great experience to host one of these sessions and it's a great format as it's more of a conversation between host and audience. You can watch the session here.
Later in the day I was a moderator on Sarah's session on Azure Stack HCI which involved being around to get audience questions during the session. It was a really interesting session for me from the developer perspective to learn more about the IT pro side.
The last session I attended was "Automated AI, how can it revolutionise your business" which was super interesting to hear more about the MLOps perspective. 
Then, it was time to say goodbyes and travel home. What's great is there are 100s of sessions still to catch up online, so really Ignite will still be ongoing for another few weeks yet for me!
Did you attend either virtually or in person? Let me know your thoughts on Twitter.